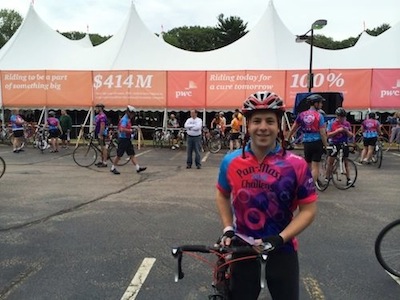 I have friends and family who have courageously battled cancer, and I want to do what I can to help raise funds for Dana-Farber Cancer Institute and its Jimmy Fund through our Pan-Mass challenge ride. This year, I rode in the Wellesley, Massachusetts Century ride, logging just over 100 miles on my bicycle.
I support the Dana-Farber Cancer Institute in Boston because it is helping people fight cancer and helping to find a cure for cancer. My wife Karen and I have been members of Friends of Dana-Farber since moving to Massachusetts in 2012. We support Dana-Farber financially and also by attending events and increasing awareness. I recently joined the Dana-Farber Leadership Council, where I plan to do even more to help DFCI.
This will be my eighth Pan-Mass Challenge ride. With your help last year, we raised nearly $10,000 for Dana-Farber and its Jimmy Fund. Since I started riding in the Pan-Mass Challenge, we have raised more than $85,000 for Dana-Farber. Thank you for your continued support!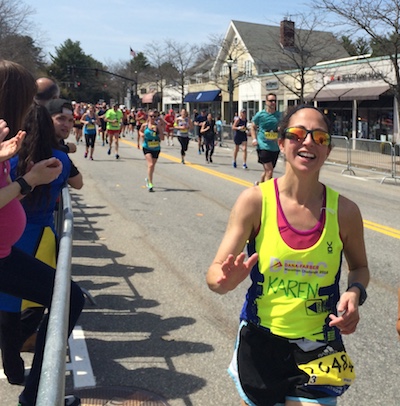 Nearly everyone has been touched in some way by cancer. For me, my brother was diagnosed with neuroblastoma as an infant, and was treated at Dana-Farber. Since then, my family has been extremely involved with Dana-Farber and the Jimmy Fund. Additionally, I have friends and other family who have courageously battled cancer, and I want to do what I can do to help.
I am proud to be a member of the Dana-Farber Marathon Challenge (DFMC) team, raising money for the Claudia Adams Barr Program in Innovative Basic Cancer Research at Dana-Farber Cancer Institute.
My goal is to raise $8,000 with the help of my family and friends. This will be my fourth Boston Marathon.
Thank you in advance for your support.
Click here to donate to Karen Silver's Dana-Farber Marathon Challenge